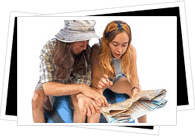 Ahhhh… Marbella, Beautiful Sea!
The very name evokes images of romantic days under the sun and the sea, set against the spectacular backdrop of the Sierra Blanca Mountains. Marbella sits 25 miles southwest of Malaga, right at the heart of the Costa del Sol, which is renowned for being one of Spain's major tourism areas. Marbella is among the most important destinations on the Costa del Sol.
Marbella's coastline stretches for miles upon miles – sandy beaches and coves beckon you to have a good time in their warm embrace.
At Marbella, old meets new, traditions blend harmoniously with modern culture and comforts. Prepare to be dazzled by ritzy houses, huge yachts parked in swanky marinas, brand name stores, stylish restaurants and bars. But even with all the amenities and facilities customarily found in a top-rate resort, Marbella has maintained its old town ambience. It has, by some measure, escaped the ungainly effects of concrete development that is suffered by some of its neighbors.
It is a dazzling, cosmopolitan jewel of the Costa del Sol. It can certainly give the famed Monte Carlo a run for its money! Indeed, this is where the crème de la crème have the time of their lives.
Are you thinking, then, that Marbella may be too rich for your blood? That it may be too chi-chi for your taste? We hope not! Marbella is rich - rich in history, adventure and relaxation.
In Marbella, there is something for everybody. There is so much to do and see that you will not have time to get bored.
Historical Marbella
Visit traditional Marbella at the Old Quarter district. Here, around the Plaza de los Naranjos, you can see quite a number of imposing structures and buildings. In this part of town, you get a distinct feel of how Marbella lived in the past centuries.
When visiting Marbella, be sure to see the Plaza de Toros (Marbella's site for the not so politically correct sport of bullfighting). Then, there is the Basilica Vega del Mar, which is the site of many archaeological excavations. In fact, this Basilica is made up of a 4th century church's ancient ruins. Marbella has a lot of archeological gems. Aside from the Basilica Vega del Mar, there are quite a number of historic remains and ruins, such as the Marbella vaults and the Villa Romana de Rio Verde.
Relaxing Marbella
Marbella is paradise! With its 16 miles of coastline and near-perfect weather, who would not want to go to the beach and soak up the sun? Then there is the "Golden Mile", which is the playground of the rich and the famous. Take a walk along the Paseo Maritimo – the renowned Marbella boardwalk that spans the Marbella beachfront and provides you with exceptional views of the coast. And, mmmmm, take a bite of the sumptuous and delectable food offerings. Your stomach will truly be one "happy place".
Marbella also has a long list of parks, gardens and leisure areas. These delightfully mix beauty with leisure. Each place has a unique contribution to make.
Adventurous Marbella
As if these weren't enough, Marbella also offers something for the adventurous spirit. It is paradise for sports lovers and those who want to learn more about their sport. Marbella has a lot of sports clubs that will teach you a wide variety of sports – lawn tennis, horseback riding and other equestrian sports, wind surfing, sailing an a whole lot more. Marbella's surrounding areas also lends itself to mountain climbing, hiking, and biking activities.
Ah… Marbella! Prepare to be enchanted. After your stay, you will surely agree with the name Marbella – Beautiful Sea, Beautiful Place!