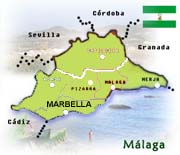 Learn here Marbella has a rich history, loaded with interesting details.
Culture & the Arts
From feisty flamenco performances to traditional celebrations, elegant architecture and a fascinating mix of arts venues, culture-vultures will be surprised at how much Marbella has to offer. Read more
Trips from Marbella
If you are looking for a change of scenery after checking out the sights in Marbella then you're in luck. Read more
What Marbella prides itself on offering original, accurate content about Marbella that you won't find anywhere else. Check out the different sections to find out what's up in Marbella, Spain.
How to Use this Guide
The sections are organized logically, from when you are preparing your trip to all the clues on the beautiful and captivating Marbella attractions, in sections like About Marbella. There is also some practical information on Transportation and how to get around in the city.