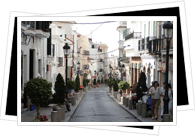 Introduction
Nerja has an ambience of rest and relaxation surrounding it. You will have a range of activities to cater to your needs for a real cultural experience in a British tourist hotspot. Before you panic, around 30% of the population is British but the traditions of Nerja remain the same.
Where to go
When you arrive you need to know where to go, and here is the run down of the best places to go on your trip from Marbella to Nerja The Balcon De Europa (Balcony of Europe) is a great start to your trip. It was originally a Moorish castle and for your efforts you will gain a beautiful view of the landscape. It will be your first taste of the culture and history of Nerja that will only excite you for the further activities waiting for you.
One of the unique aspects to Nerja are its caves. Simply named the Caves of Nerja, they were found in 1957 and have since been transformed into a concert hall for a host of international stars as well as an art gallery that is home to pieces over 20,000 years old. There is also a small treasure that can be found in the form of the Rio Chillar Waterfall, which actually supplies some of the local water, so sadly the speedos have to be left at home (unless you wear them leisurely). It will tingle your senses with its rich natural beauty and leave you with an experience you will want to share with all your friends and family.