Other neighborhoods in Marbella that are worth mentioning are Puerto Banus and San Pedro de Alcantara.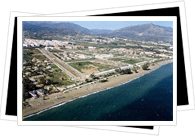 Like the Golden Mile, Puerto Banus denotes luxury, wealth, glamour at its best, and the highlife. It is both high class and comes with a high price tag. Puerto Banus is filled with designer restaurants and boutiques. It is the place to shop, if you the euros to sustain it, that is. There are many designer labels with stores from well-known brands such as Hermes, Ralph Lauren, Louis Vuitton and DKNY.
The marina sports the latest and most expensive models – in yachts and cars. It is a major tourist hotspot, where you can combine the pleasures of sailing, shopping, nightlife and al fresco dining.
Do not fret, however, if you plan to live in Marbella on a budget. Although Puerto Banus stands for the ultimate in class and glamour, there are still some places that allow you to enjoy some good coffee and breakfast without paying an arm and a leg for them. This port is named after Jose Banus and is currently one of the most renowned ports in the entire Europe.
It is also at the Puerto Banus that you can find Spain's favorite shopping area – the El Corte Ingles. A large department store sells just about anything and everything – luxury items, clothing, shoes, home décor and sports gear. Close by is the new Marina Banus shopping center. It is also a haven for shoppers and those who would like to watch a bullfight.
Meanwhile, San Pedro de Alcantara is a village on the outskirts of Marbella , which bears the marks of ancient civilization. Archeology lovers and culture vultures will surely love visiting the ruins. There is the Villa Romana de Rio Verde, upon which the ruins of an ancient villa stand. This villa was built at around the 1st and 2nd centuries A.D. It sits at the mouth of the Rio Verde. The villa has an internal courtyard, with a lot of rooms and columns. The floors features mosaics that have the images of the sea, faces and culinary motifs. Truly superb! You will leave this place open-mouthed after you witness these mosaics.
Then there are the old Roman Baths (Las Bovedas). These date back to the 3rd century. It is believed that these baths are the only remaining traces of the Cilniana, a Roman settlement that was destroyed in 365 A.D. by an earthquake. The structure is built around an octagonal patio and there are also the remains of an octagonal pool.
Another interesting archaeological find is the Basilica Vega del Mar, which is a Paleo-Christian structure made by the Visigoths back in the 4th century. There is no other such religious structure in the whole of Spain, although all that remained are historic ruins. Still, it offers an insight into the past and you can still see that it was once a beautiful building. There is also a necropolis nearby. Numerous important archaeological excavations were done in the area. Artifacts that proved the existence of ancient civilizations were discovered here.
Visit these three archaeological treasures on Tuesdays, Thursdays and Fridays at noon for free guided tours.