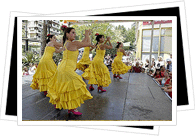 Spirit, fiery passion, elegance and beauty. These are the fitting descriptions one can give of this truly magnificent music and dance. It is an extremely pleasant combination of singing, dancing, staccato handclapping and acoustic guitar playing. It is a great sight – a dazzling display of the intense pride and joy in life, coupled with the trials and hardships that make it a stronger, more passionate musical treat.
Flamenco is a gypsy dance that tells about the joys and pains of life itself. A flamenco dancer is one who frees his or her spirit from any and all inhibitions and just expresses himself or herself.
When we say flamenco, the image that we usually associate with it is a woman who dances with intricate twisting and turning movements, accompanied by staccato clapping. This image connotes power, passion, emotion and strength. That is right. Flamenco is about that, but not just that.
Flamenco also includes music and song. It could be played by a solo guitarist. It could be performed unaccompanied by a singer or accompanied by a variety of instruments.
Depending on where the flamenco artist hails from, there are different variations of this highly diverting art. There are rondeñas, jaberas and verdiales, just to name a few. What's more, today, flamenco has been "modernized" so that it also brings to bear more modern influences. The Nuevo Flamenco is inspired by jazz, rock and roll, rumba, pop, and salsa music, among others.
Learning flamenco is an intense yet exciting journey towards passion coupled with grace and dignity.
Here are some places you can go to to learn or witness this wondrous art.
Donde Maria – Sala Flamenca
One great place to enjoy flamenco!
Address: Calle Vicente Blasco Ibañez, s/n, 29600 Marbella
Telephone: + 34 95 2864298
Flamenco Ana María
This popular flamenco place opens Tuesdays to Saturdays starting at midnight until the wee hours of the morning. Price is 2.6 pesetas – this includes one drink.
Address: Plaza Sto Cristo (Old Town) 29600 Marbella
Telephone: + 34 95 2775646
Flamenco Bona Dea
Shows are scheduled on Thursdays, Fridays and Saturdays starting from 10:30 in the evening.
Address: Calle 2B Centro Comercial Odeón 29660 Nueva Andalucía
Telephone: + 34 95 2816044
Flamenco El Tauro
Address: Calle Calvario 29600 Marbella
Pub Flamenco Albero y Arte
Has a built-in mock bullring which is the stage of the flamenco. If you want to find an authentic yet difficult to find style, this is the place to go. This place usually features flamenco song and guitar.
Address: Calle Vicente Blasco Ibáñez, Marbella.
Hotel Puente Romano
Shows are held every Saturday (Dinner – 8:30 p.m. to 11:00 p.m.; Show starts at 11:15 p.m. – 10:30 p.m.)
Address: Hotel Puente Romano. Ctra. de Cádiz, km 177 29600 Marbella
Telephone: + 34 95 2820900
Flamenco Tablao
Supper and show is at 30 euros. Make reservations if you would like to have dinner here. Show is on Thursdays at 11:00 p.m.
Address: Calle Vicente Blasco Ibáñez, s/n (Near the Municipal Stage of Soccer) Marbella
Telephone: +34 952 864298
The Repique
Shows on Thursdays, Fridays, Saturdays and Sundays starting at 10:30 p.m.
Address: Andalusia, Premises 1, San Pedro Alcantara
Telephone: +34 95 2589034
Flamenco – Mijas
Show starts at 12:00 p.m.
Address: Mijas Pueblo main square
Telephone: +34 95 2589034
Flamenco – Benalmadena
Starring Rosi de Alva, one of Andalucia's famous flamenco dancers, together with her company of dancers and musicians, has a show every Friday at The Moonlight Sunset Beach Club. This is to be found in Banalmadena. Show starts at 10:00 p.m.
Telephone: +34 95 2579404