The cuisine in Marbella is typically Spanish Mediterranean – lots and lots of seafoods, generous use of olive oil and rich spices, onions and garlic. Indeed, Spanish Mediterranean cuisine brings to bear the unique cultural heritage combined with nature's bounty. The food is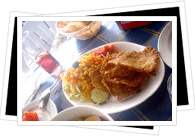 fresh, succulent and diverse.
Sample Marbella's many dishes – the Coquinas, Almejas, Espetos de sardines (sardines roasted in fire), Pascaito Frito (fried fish) and Mariscos Frescos. There are also some regional favorite that have been a staple in Spanish Mediterranean and Andalusian cuisine – Paella, Ajo blanco (cold soup, usually with almonds, oil and garlic) and Gazpacho Andaluz.
Olive oil deserves a special mention, as it is quite the staple in many of the region's recipes. This is because the region is a major producer of olive oil. The olive oil's many qualities bring out the flavor that Andalusia and Spanish Mediterranean cuisine is recognized for.
Here is a sampling. This list shows a glossary of cooking terms and of some dishes served in Andalucia and in Marbella.
Tortilla de patatas – a potato omelette which is a national favorite of Spain. This is usually 4 cm. thick and is predominantly seen on tapas bars across the region. It can be eaten either hot or cold.
Paella – Ah, paella! Its colors and textures show a lavishness that is typical of this Spanish dish. It usually uses saffron – an expensive spice that brings out a richer taste and color. It is made up of rice, various kinds of seafood, shellfish and crustaceans. Paella is usually cooked using a paellera, which is a round flat-pan that has two handles.
Gazpacho – This cold soup is the trademark Andalusian food. It is made of fresh, raw vegetables. The name, some say, comes from the Latin word "caspa" which means little pieces or fragments, because of the breadcrumbs or crutons that is also a basic ingredient for this recipe.
Pescadito Frito – This food is popular especially in beach cafes or chiringuitos. It is fried fish – such as red mullet, cod or whitebait.
Tapas
What is Spanish food without tapas? Indeed, these small samples of delicious food is a tradition and very essential not just for nourishment but also for company and conversation.
"Tapas" literally means lid – which may mean the saucers that holds the tapas are commonly used to cover a glass of beer, wine or coffee. Tapas are small portions of food (virtually any kind! – cheese, ham, sausage, seafood, meats, etc.). These are eaten standing up at a bar, talking with friends. This is one great way to get a taste of the variety of food available in Marbella – just a little portion at a time. Marbella offers a wide variety of tapas bars that you can try.
Dessert
Here, you will find a strong Moorish influence. Almonds, egg yolks and honey, even orange and lemon zest, are predominantly used in making sweets. Some of these recipes have existed and kept a secret for centuries. Sample the following sweet treats: candied egg yolks, yemas, tocino del cielo (which is custard topped with rich caramel), pestiños (fried dough) and turrones (a delicacy made primarily of almonds).
Marbella has a rich and varied cuisine. You are able to taste not just local cooking, but also regional, national and international cooking as well.