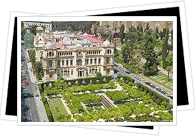 Introduction
When you are heading to wards Malaga it will be the chance for you to visit the birth town of Pablo Picasso. It has an intriguing mix of modern and historic influences within the city, it is the 6th largest within Spain and is metropolian. It has an impressive array of bars and clubs ready to accommodate your needs.
Things to do
You will have a host of things to keep yourself busy when you travel to Malaga from Marbella. One good example takes on a religious theme. The Cathedral, for example, was begun in the 16th century and it took two centuries to complete some parts. It even takes on the nickname 'The one-armed' because only one of two planned towers was constructed. The combination of the different completion dates means the cathedral takes on three styles of architecture - Gothic, Renaissance and Baroque - , which is rather unique.
Another historical piece that takes on its fair share of age, the Roman Theatre was home to audiences seeking entertainment ,2000 years ago, making it a charming place to get a couple of photos. To think that there would have been someone sitting where you will be two thousand year prior will stir your imagination.
Picasso
As previously mentioned, Malaga is the birthplace of Pablo Picasso and there is a museum dedicated to him which has over two hundred pieces donated by members of his family. It isn't necessarily something you should trade for the beach but does play home to some interesting pieces that show the artist's range over the many years he produced work. Named appropriately the Museo Picasso Malaga, it's located in the Palacio de Buenavista and is definitely worth a look.
Sports
It's worth mentioning that there's a favourable golf course for those interested in a quick round of 18 in between the touring of the sights. Named Santana Golf and Country Club, it has a set of hazards that keeps each hole refreshingly unique; just be sure to pack a few extra golf balls in case your shots become too daring!
Malaga wines
Think of Spanish wines and Malaga might not be the name that most naturally will come to mind – but this might well be a trend on the changing: once among the most internationally reputed wines in Europe, Designation of Origin Malaga used to be akin to saying "excellence". Ravished by disease in the XIX centuries, the vineyards of Malaga have come back to their ancient glory in recent times, earning a reputation for their sweet and refreshing flavour.