Music stirs in the heart and soul of the typical Andalusian. The people of Marbella are not exceptions.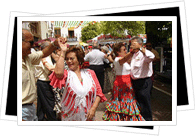 They love their music. Their city, along with nearby Puerto Banus, plays hosts to the elite and fashionable places where music can be played, enjoyed and danced to.
The beat of different kinds of music more often than not, fill the air in Marbella, particularly in the music bars, pubs and discos that abound in Marbella.
Here are some music bars where you can enjoy some toe-tapping, hip-shaking or soothing and relaxing music:
Ana Maria's
Foot stomping and swaying of the bodies and hands – this is what the fun flamenco shows of Ana Maria's are all about.
Address: Plaza de Santo Cristo
Frank's Corner
Rock music lovers, this place is for you. The memorabilia celebrating this music genre rocks – the collection is quite stunning. Come here for a rockfest and bring the house down! The rocking starts at around 10:00 and can last in the wee hours of the morning.
Address: Central Marbella
La Notte Piano Bar
Chic and elegant. Magnificent and marvelous. That speaks of the music and views to be had in this piano bar, not to mention its cocktail list.
Address: Camino de la Cruz
The Champagne Room
Celebrate the bubby, bubbly life in the Champagne Room, with its stylish design, you will surely enjoy the elegant dance music played here.
Address: Hotel Marbella Club
Tony Dalli's Ristorante Italiano
Now why is an Italian restaurant part of music bars hit-list? Well, this is no ordinary Italian restaurant. This is owned by Tony Dalli, one of Marbella's favorite and famous singers – he sings one mean tenor. Now and then, if you are lucky, you will get to hear a song or two from this great tenor. If it's your birthday, you are almost guaranteed to be luckier.
Puerto Banus also has a long and illustrious list of piano and music bars.
Maxim Cabaret and Restaurant
Life is a cabaret, old friend. Especially if it's live – which is what you will get at Maxim Cabaret and Restaurant. Nightly live cabaret shows done amidst a classy and intimate ambiance.
Sinatra Bar
I did it my way! Sing the best of Sinatra songs or dance to the groovy and lively music.
El Cubanito
Dance under the stars to the tune of booming Cuban music.
The Mambo Club
Mambo kings reign here. Dance the salsa with a large crowd. This club can hold quite a number of exuberant salsa dancers, as this one of the larger venues of Puerto Banus.
Tipsy Turtle
Do the turtle rock! This rock and roll hall has live music starting at midnight until 2:00 in the morning.
Old Joy's Pub
Sing the songs you like while someone accompanies you in the piano. Reminisce about old songs and sing of old loves.