Marbella is not the Costa del Sol's answer to Broadway or the West-End. Marbella is more on flamenco and live music.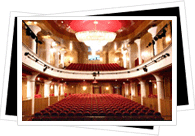 However, there are still some places where you can find some high quality theater shows.
Marbella City Theater
This theater offers a full range of shows – comedies, opera, ballet, recital, children's theater shows and contemporary theater. These shows make for a year-round season full of shows you can enjoy.
Address: Delegación de Cultura, Marbella
Telephone: +34 95 2825035 / +34 95 2903159
Hours: Tuesdays to Saturdays at 11:00 a.m. to 2:00 p.m. and 7:00 p.m. to 10:00 p.m.
Auditorio
Address: Parque de la Constitucion