Marbella may be known as the "beautiful sea," but it's not all Marbella has to offer. It also has plenty of gardens, parks and green spaces where you can sit, relax and just enjoy nature's bounty. Marbella's parks and gardens are well maintained and contain a wide variety of flowers, plants and tress.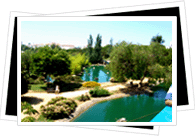 Here are some of Marbella's gardens:
Alameda Park
Address: Avenida Ramon Y Cajal, Marbella
This park is filled with all kinds of colorful Mediterranean plants. This is also where you can sit and enjoy Salvador Dali's sculptures. Indeed, this is where the beauty of nature and the splendor of human art combine to make one enjoyable experience! Alameda Park is a particularly fragrant spot in the city, with plenty of benches for you to sit on as you enjoy the fragrance wafting through the air.
Constitution Park
Address: Avenida La Fontanilla, Marbella
Right at the heart of the city, we can find one of the most tranquil and beautiful sections of Marbella. This park is close to the seafront and is a favorite resting place of locals and visitors alike. It has a children's park, an outdoor auditorium and a small astronomic observatory. It is filled with many colorful and seasonal flowers and is a favorite site for summer festivals, fiestas and concerts.
Arroyo de la Represa Park
Address: Avenida Arroyo de la Represa, Marbella
This park is a good place to indulge in various sporting activities, as it has playing fields and sports facilities among its facilities. It also houses the fabulous Bonsai Museum – where one can find the best collection of bonsais in the entire Europe. Here, among the flowers and vines, beside a man-made lake, you can breathe in the fresh air and revel in the beauty that nature has to offer.
El Angel Gardens
Address: El Angel Colony, fronting the Aloha College
This is one of the most complete botanical gardens in the Costa del Sol. There are three types of gardens in El Angel and this can be distinguished from the different styles of vegetable species – the Jardin Romantico, the Jardin Tropical and the Jardin del Crucero.
Nagueles Park
Address: At the foot of the Sierra Blanca Mountain
This nature park sits beneath the Sierra Blanca mountain. You can benefit from the many trees that grow here and can enjoy a relaxing picnic at any of the many picnic tables here.
King Fahiad Gardens
Address: Golden Mile
This is located below the fabulous house of King Fahiad. These gardens are as fabulous as the palace after which it is named.