A tour of Marbella should also bring yo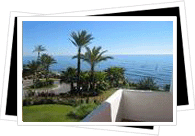 u to the Golden Mile, which stretches from the western edge of Marbella City until Puerto Banus.
Why is it called the Golden Mile? Well, golden sandy beaches, the golden sun, palatial beach front homes and real estate worth a whole lot of gold. This is one of the most expensive pieces of real estate in Europe.
The Golden Mile is the epitome of luxury, extravagance and opulence. This is, after all, the playground of the rich and famous. This area is very chi-chi and holds some of the city's most luxurious and well-appointed villas and houses - palaces, if you will.
Celebrities and royalty meet here to play. This includes the likes of Saudi Arabian King Fahd, who had a summer palace and a mosque built in his share of the Golden Mile.
The Golden Mile traces its reputation as a premiere vacation spot to the Marbella Club Hotel, a five star luxury hotel that was built in the 1950's. Its gardens are consistent prizewinners for their beauty, elegance and style. These gardens are filled with an unparalleled collection of olives and avocado trees, pine trees, bougainvillea, araucarias, pine trees and acacias. The hotel offers excellent bedrooms, suites and villas.
The man behind this luxurious five-star accommodation is Prince Alberto de Hohenlohe. He spearheaded this kind of first-class tourism, which started the image of the Golden Mile as the playground of the rich and the very rich.
After this hotel, more five-star hotels, business centers and golf courses followed suit. These establishments stand along the coastline or in the motorway that divides the Golden Mile into two sections.
The Golden Mile is also dotted with first-class restaurants that offer you the finest dining experience (and opportunities for celebrity watching!) – for a price, of course.
Ahhh… the Golden Mile whispers golden promises to you. Beckoning you to come visit and experience the richness and luxury of life for the crème de la crème.