Welcome to a world of thrills and adventure!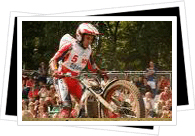 Are you are someone who yearns for that unforgettable rush you get when you are gliding up in the sky or under the sea? Or are you more into quiet days just lazing in the beach and soaking in the sun? Or would you like to have a look at beautiful flowers and gardens? Whatever your preference, Marbella has something for you.
Marbella is blessed with a fascinating natural environment, where the sun, the sea and the mountains combine to give you a memorable outdoor experience. It is also gifted with an unparalleled climate – sunny days and a warm temperature. There are luxurious gardens, spectacular beaches, and a majestic mountain range – the Sierra Blanca.
There are two mountain peaks in the area – La Juanar (1,182 meters high) and La Concha (1,212 meters high). Reach the tops of these mountains and you will be rewarded with a breathtaking view of the areas surrounding Marbella.
Its excellent weather is good for all kinds of sports – wind surfing, parasailing, watersports, biking or hiking. Aside from this, there are also exquisite parks with a huge variety of flora and fauna that will be highly appreciated by nature lovers.
Indeed, Marbella is a sports lover's haven. The sun, the sea, the fresh air and the thrill of the moment– what more can you ask for?