Why visit Marbella? Let me count the ways…
Hmmmm… There are actually quite a number of reasons to visit Marbella, but let us just give you ten.
1. Weather
Marbella is blessed – it sits between the mountains and the Mediterranean Coastline. As such, it is gifted with a pleasant micro-climate, with warm, sunny summers and relatively mild winters. Read more about Marbella weather here…
2. Beaches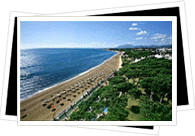 Life's a beach – even more so if you are in Marbella. Marbella, with its miles upon miles of coastline, boasts of crystal clear waters, top rate beach facilities and the luxurious marinas and yachts. There is the Golden Mile and Puerto Banus – where swimming and other water sports activities are distinct pleasures. Find out more about Marbella beaches…
3. Historical Treasures
Marbella is a treasure trove of historical monuments as it has a rich and colorful history. Taking a leisurely walk through Marbella's Old District is like going back in time. Marbella is sure to surprise and amaze you with all the historical riches that it offers – buildings, museums with great collections of artifacts, churches and castles.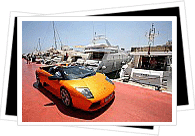 4. Luxury
When it comes to luxury and self-indulgence, Marbella sure comes in at the top! It is, after all, Spain's version of Monte Carlo. The trappings of luxury are to be seen everywhere – from the swanky hotels, the latest and most expensive models in cars and yachts, and even in the people themselves. Marbella is a great place to go royalty and celebrity watching, as this place is one of their stomping grounds.
5. Nightlife
Party, party, party! The nightlife in Marbella is simply amazing. Find out why…
6.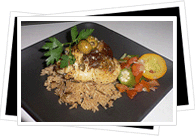 Cuisine
Mmmm… good! Marbella has a wide and diverse selection of Spanish and international cuisines. There is a long list of restaurants and tapas bars waiting to be discovered. Find out more about them here…
7. Architecture
Aside from the swanky hotel buildings, shopping complexes and ultra-luxurious houses, there are quite a number of great examples of Mudejar, Baroque and Renaissance architecture.
8. Shopping
Marbella is a true shopper's haven. It is home to a great selection of designer brands and upscale stores. You can also search for good bargains at the markets of Marbella, which sell a wide array of products – vegetables and fruits, clothes, shoes, spices, and many more. Find out about Marbella's shopping scene…
9. People
Marbella's warm and sunny atmosphere is quite contagious – and it reflects in its people. The locals are warm and friendly. They will readily welcome you with open arms. And since Marbella is a favorite haunt of the rich and famous, Marbella is a good place for celebrity watching.
10. Culture and Language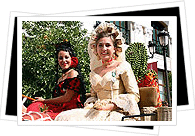 Marbella is filled with museums and art galleries that will give you a glimpse of the city's artistic inclination and zest for life. The museums are filled with art works (some by Picasso and Miro), artifacts and sculptures. Marbella is also diverse. As an example, there are more than 20 different nationalities of children that are being taught at the English International College! This cosmopolitan air breeds an atmosphere of sophistication and bonhomie.
Marbella is also a great place to study Spanish. For what better way can you learn a language than by speaking to native speakers while you soak in the sun or while you are on a shopping spree? Find out more about Marbella, Spain's culture and language…