Ah, tapas!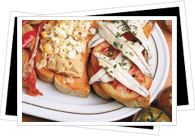 These savory snacks served with drinks is certainly one way to relax, while enjoying the company of friends – old and new.
Every year, Marbella celebrates one great food experience – the La Ruta Tasquera (Tour of the Tapas Bars), where you can taste some of the best tapas in Marbella. In this tapas feast, people go from one tapas bar to another, in a bid to eat as many types of tapas as they can.
Tapas may be made of hams, sausage, fried fish, prawns, meats, and what have you.
Bodega del Gusto Italiano
Address: Calle Fontanilla, 4, Marbella
Telephone: +32 952 77 40 90
Bodega er Colega
Address: Marqués del Duero, San Pedro de Alcantara
Telephone: +32 952 78 08 99
Bodeguita Andaluza
Address: C.C.La Cañada, local 87,88, Marbella
Telephone: +32 952 86 17 11
Bodeguita Del Gusto Italiano
Address: Calle Fontanilla, 4 29600 Marbella
Telephone: + 34 952 774 090
Bodeguita el Callejón
Address: Calle Álamo, 5, Marbella
Telephone: 649 71 53 14
Bodeguita en ca Curro
Address: Calle Bahía, local 5, San Pedro de Alcantara
Telephone: 670 90 30 58
Bodeguita la Agüela
Address: Calle Lagasca, 24, San Pedro
El Bodegón
Address: Paseo Marítimo, 7, Marbella
El Colmao de la Bruja
Address: Avenida Julio Iglesias, Local 101, Nueva Andalucía
Telephone: +32 952 81 52 61
El Estrecho
Address: San Lázaro, s/n Marbella
Telephone: +32 952 77 00 04
Gambrinus
Address: Plaza Saba, Puerto Banús
La Bocana
Address: Muelle Benabola. Local 1, 29660 Puerto Banus
Telephone: + 34 952 817 386
La Taberna del Pintxo
Address: Avenida Miguel Cano, 7, Marbella
Telephone: +32 952 82 93 21
La Querencia
Address: La C/ Tetuán, 9, Marbella
Telephone: +32 952 77 12 08
La Verbena
Address: Calle Castillejo, Marbella
Telephone: +32 952 82 74 10
Two Horses
Address: Plaza Saba, Puerto Banús