ENFOCAMP Summer Camps in Marbella
Marbella is the ideal destination for a summer camp. Located on the pristine Costa del Sol ("Coast of the Sun"), full of prestigious school and sports facilities, it's a small, safe city popular with tourists from all over the world.
We offer you 3 summer camps in Marbella to choose from on 3 different campuses:
Colegio Albergue
Colegio Alborán
Colegio Alemán
Order a free Summer Camp brochure below!
Marbella "Albergue" Camp
The summer camp site is located right in the center of Marbella and a quick walk from the seaside promenade, the beach and the old quarter, famous for its small, picturesque streets, sunny terrace cafés and shops. Our students will have the opportunity to partake in Marbella's one-of-a-kind coastal atmosphere.
Marbella "Alborán" Camp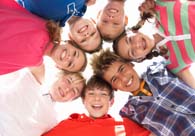 The "Alborán" camp is located 8 kilometers from Marbella and a a quick walk from the beach, where students will go several times accompanied by their counselors. The camp is held on a private school campus, a sprawling 38,000 square meter finca brimming with natural beauty. Surrounded by a thick wood of pine trees, the camp boasts a tranquil, pleasant atmosphere that students love.
Marbella "Alemán" Camp
The "Alemán" camp, located atop one of Marbella's surrounding hills, is in the "Elvira" district- one of Marbella's most exclusive residential areas. It's 12 kilometers from Marbella and 6 kilometers from the beach, where we bring campers at least 4 times a week via a private bus service. The camp's privileged hill-top location provides an incredible vantage point, with views of nearby towns and of the shimmering Mediterranean Sea.
Why ENFOCAMP Marbella? All three camps guarantee...
60% Spanish students!
International students from more than 32 countries
Extensive residential, academic & athletic facilities
4 or 5 language lessons every morning
Activities, workshops and sprots in the afternoons
At least 1 full-day and 2 half-day trips per 2-week session
Optional sports programs
Proven teaching methodology, excellent academic materials and highly-qualified teaching staff
100% supervision
Ages
Marbella Albergue: 16 to 18 years
Marbella Alborán: 13 to 18 years
Marbella Alemán: 5 to 13 years
Dates (2013)
Programs begin on:
Albergue Camp: June 30th, July 14th
Alborán Camp: June 30th, July 14th & 28th, August 11th
Alemán Camp: June 30th, July 14th & 28th, August 11th