Experience the thrill!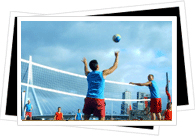 Marbella is filled with all manner of sports activities for those who are looking for sports and adventure. Not only does Marbella have some of the best golf courses in Europe, it also has a full range of sports options. Visit the bullfighting arena and get a dose of this traditional Spanish sport. You may also go horseback riding, skiing or play lawn tennis.
Marbella is blessed with excellent weather and this is one good reason why this town is your stop for sports.
Here are some of the sports complexes where you can get to watch your favorite games.
Arroyo Represa Sports Complex
Address: Avda. Antonio Maíz Viñals
Marbella Indoor Sports Complex
Address: Avda. Gral. Lopéz Dominguez
Telephone: +34 95 2774658
Marbella Local Stadium
Address: Huerta de los Cristales
Telephone: +34 95 2771681
Paco Cantos' Sports Complex
Address: Avda. Cánovas del Castillo
Telephone: +34 95 2771926
Rio Huelo Sports Complex
Address: Avenida del Mercado
Salduba Sports Complex
Address: Vicente Blasco Ibañez
Telephone: +34 95 2774668
San Pedro Sports Complex
Telephone: +34 95 2788694