Have the time of your life! Marbella is the best place to be. This is where the party-philes (party lovers) come to roost.
The wonderful weather, the backdrop of the mountains and the beach, the cosmopolitan air all combine to make an enjoyable nightlife experience. Why, you can dance into the wee hours of the morning!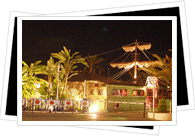 You are faced with a lot of choices on how you can spend your evening – relaxing at Paseo Maritimo and breathing in the cool night air, at Puerto Banus, where you can rub elbows with celebrities, at the Plaza de los Naranjos where you can sit at the summer terraces while listening to top international bands.
There are also a whole spectrum of bars, pubs, nightclubs, discos and casinos. What's more, bars feature live music – flamenco, jazz, rock and roll, hip hop, techno, and so much more.
If you want more quiet nights, there are plenty of pubs where you can just hoist your beer mugs while enjoying your time with friends. There are also upscale restaurants where you can have a romantic night with your significant other.
Casinos, cybercafés and piano bars are also some options.
Hey, there are so many things to do at night. So, put on your best party frock and explore Marbella at night. It is quite an unforgettable experience.
Marbella, Marbella – beautiful sea, beautiful nights.