Take a hike!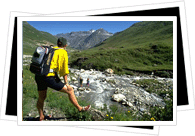 And we guarantee that you'll love it. There is the wealth of scenic landscapes, the bracing Andalusian air, as well as the sense of adventure you will feel as you enjoy Marbella and its surrounding towns on foot. Prepare yourself to be awed by the wonders of nature and the distinct pleasure of a spectacular sunset. Scale the height of the La Concha mountain, visit the white villages along the way. These, and more, are what Marbella hiking offer you.
Here are some routes for you to follow:
Juanar – El Pozuelo route – Take a hike through the mountains of the white village of Ojen.
Puerto Rico – Los Monjes route – This route takes you to the impressive mountain range of Marbella.
La Concha route – Scale the La Concha and be rewarded with the dazzling view from the top.
Caňada del Cuerno route – This route takes you through the fir tree forest of the Sierra de las Nievas.
One favorite route is the Ojen – La Concha route. This starts from the Refugio Juanar in Ojen and ends in the La Concha mountain, which is 1,215 meters high. The total length of the journey is 7.3 kilometers. Get ready to take a long, but scenic walk through different kinds of landscapes until you reach one of Marbella's famous landmarks.
Here are some precautions, though. Carry plenty of water and sun block. During summers, do not hike during the middle of the day. When you are on the mountain tops, be careful and be aware of strong gusts – after all, it is quite a long way down!