Get out your mountain bikes and explore the countryside. It is quite easy to go back to nature.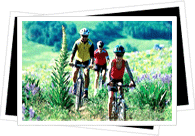 In Marbella and in the rest of the Costa del Sol, there are hundreds of tracks that go through the mountains – this is one exciting experience for biking enthusiasts! Feel the pleasure of the sun and the air on your face as you ride downhill tracks! Or, be challenged and go on an uphill one! Whatever your preference, you can be sure that you will enjoy biking through the Marbella countryside.
Two of the best trails are: 1. through the Huertas de Istan – which is a thoroughly energizing route going to the Rio Verde and 2. through the Sierra de Marbella which affords a spectacular view of the country. It goes from Ojen to the white village of Istan.