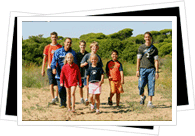 There are a number of theme parks in and around Marbella that offer a cornucopia of attractions for you.
Funny Beach
Have fun and frolic with the whole family! Funny Beach shows you how – trampolines, mini-motorbikes, bumper boats, rides, mini-golf, go-karts, waterskiing, jet skiing and the banana boat. This is very accessible as this is just 300 meters away from Marbella's Arch.
Address: Ctra. N-340, Km. 184
Marbella East
Cable Ski Marbella
This is one great place to learn and master the art of water skiing. Located in the safe and calm waters of the lake, this is water skiing with a difference.
Address: Urbanization Guadalmina Alta Parque de Las Medranas s/n
San Pedro de Alcantara
Telephone: +34 95 2785579
Camelot Park
This park is geared towards children ages 5 to 12. Here, you can find castles and karaoke – modern meets medieval. Other options include minigolf, billiards, bowling and so much more.
Address: Centro Comercial Marina Banus
Puerto Banus
Telephone: +34 952 818546
Natura Aventura
This is one great place that mixes nature and adventure. You can enjoy all kinds of open-air activities. There is a children's park, rural huts, paintball arena, and an artificial ravine.
Address: Calle Santa Beatriz, 32
San Pedro de Alcantara
Telephone: +34 952 853230
Selwo
In Estepona, this park combines five continents into one great adventure experience. First, there is the bird park, where you can find a lagoon filled with flamingos and other exotic birds. Then, there is the bird canyon, a huge enclosed area filled with plants and where humans and birds can roam freely. Then, you will have a chance to get up close and personal with a wide variety of animal species – the elephant, the eagle, the zebras, and so much more. Get into the spirit of adventure and ride the flying fox – don't let go, though, or you will fall directly into an African lake. This nature park is one great way to appreciate animal life and all that it entails
Address: A-7 Autovia Costa del Sol, Km. 162.5
Las Lomas del Monte, Estepona
Telephone: 902 190482
Fuengirola Zoo
Animals are showcased in the environment they are best known – their own habitats. The zoo recreates the ecosystem of the tropical forest and will transport the visitor to a jungle filled with nature's surprises. There are a huge number of species that live in this man-made yet truly spectacular jungle. Come, visit and find out why this zoo is considered one of Spain's (and Europe's) best zoos.
Address: Camilo Jose Cela, 6
Fuengirola
Telephone: +34 95 2666301
Parque Acuatico de Mijas
This water park can be found along the road going towards Fuengirola. This park is for all members of the family and you can enjoy the pools and their unique concepts and designs, along with whirling rides, water slides and wild water waves. It also has rides and attractions such as the Adventure River, the Labyrinth Slides, Body Ski, Kamikaze Slides, Wave Pool and Lizards' Island.
Address: Ctra. N – 340, Km. 209
Mijas – Costa
Telephone: +34 952 460404
Crocodile Park Torremolinos
Croc Alert! Here is one opportunity to touch and hold a real live crocodile. You will witness the different cycles of life of this reptile – from incubated eggs to witnessing a full-grown crocodile strut its stuff. Here, crocs can reach to 6 meters long and can weigh up to 450 kilos. They can even reach up to a ripe old age of 60 years! If you're up to it, you may even watch the feeding of this hugely fascinating reptiles. This is just a thirty-minute drive away from Marbella.
Address: Calle Cuba 14
Torremolinos, Malaga
Magic Palace
Magic everywhere You can visit this magic show by Oscar, Renzo & Mara. This fascinating show is known for its original and lively concepts. Have a magic-filled night and visit the Magic Palace!