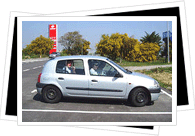 If you plan to rent a car to go to Marbella, here are some tips:
1. Book or reserve in advance. This will hold you in good stead, especially during peak times such as holidays and festive days.
2. Ask if liability is included. This may cost an extra fee.
3. Check on the age requirements. Some car rental companies require that the driver to be over 21 years old. Do not forget to bring your passport and driver's license.
4. Ask about fuel and mileage to measure how much you will need.
5. You may opt to have a special delivery – pick up and drop off at the airport.
6. Before signing anything, carefully read all the terms and conditions.
Take note of the following guidelines when driving:
Speed limits:
- 120 km/h on motorways
- 50 km/h in towns
- 100 km/h on dual carriageways
Care Rental Companies in Marbella
Marbella Carhire
Address: Carril de Guetara 24-26, Polígono Industrial Villarosa
Málaga
Telephone: +34 952 285 477; Fax: +34 952 284 234
Atesa
Address: Avda. Severo Ochoa, 2
Marbella
Telephone: +34 952 82 94 67; Fax: +34 952 82 94 86
Avis Alquile Un Coche, S.S.
Address: Padre Joaquin Belon, 4
Marbella
Telephone: +34 952 86 65 51
Espacar
Address: Residencial Casablanca, local 3. Bvard.Principe A. de Hohenlohe
Marbella
Telephone: +34 952 77 47 15; Fax: +34 952 77 48 01
Europcar
Address: Avda. Ricardo Soriano, 38
Marbella
Telephone: +34 952 86 30 17; Fax: +34 952 82 69 19
Helle Auto S.A.
Address: Camilo Jose Cela, 21 Ed.Imperator
Marbella
Telephone: +34 952 82 30 38; Fax: +34 952 82 27 11
Hertz de España, S.A.
Address: Arias Maldonado, 4
Marbella
Telephone: +34 952 77 31 91; Fax: +34 952 77 58 44
Marina Sun Travel, S.A.
Address: Avda. Duque de Ahumada, 2 D
Marbella
Telephone: +34 952 77 71 12; Fax: +34 952 77 08 71
Sunshine Car Hire
Address: Ramon Gomez de la Serna, 5. Ed.Marbella Azul,1ºD
Marbella
Telephone: +34 952 76 64 08; Fax: +34 952 82 28 75