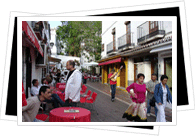 Going around Marbella?
You can take the "road less traveled" and take the horse carriage to see the Old Quarter. This is a romantic way to travel across the Old Town. To start, go to the right of the Alameda Park on Avenida Ramon Y Cajal. This is where the carriage stand is to be found.
You may also take the tourist train that begins from El Faro street and travels around the city. The train costs just a few euros and children under five travel for free. The Tren Turistico de Marbella tour lasts about 25 minutes and will take you across the Old Town. The train leaves every 25 minutes.
You may also opt to take the ferry boat to Puerto Banus. This scenic route will give you great views of the coast. This coast 5 euros for a single trip and 8 euros for a return trip.