Go for Baroque!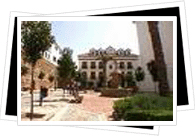 The Baroque Style in architecture is typically made of broad and usually circular forms, the use of windows to control the lighting conditions and the use of elaborate adornments or ornaments in the facades, interiors and portals.
Here are some examples:
- Iglesia Nuestra Señora de la Encarnacion
This structure features a main façade that has stunning red stone entrance that is done in the Baroque tradition. It dates back to the 1500s. Construction was begun in 1618 but the actual building was constructed only at the start of the 18th century.
It features a basilica type structure with three naves done in Baroque style. It also has a beautiful baroque doorway. The portal is done in Rococco style and is made of stone. Salvador Galvez was the one who sculpted the church's main façade in 1756 but the structure's design is attributed to Peter del Castillo.
The belfry of the cathedral is quite appealing, with its bells under semicircular arcs. This belfry is now a common symbol of Marbella – images of the belfry appear constantly on postcards, posters, programmes and other souvenirs. It is, after all, one of the highest points in town, except for the high-rises, that is.
The interior underwent restoration after the 1936 Civil War and has three sections. Here, you can find the Sol Mayor organ that is considered as one of the most important built in Spain – and it certainly is one large, functional and beautiful piece! Made of pewter, it has four manual keyboards with 56 notes and 36 note pedals.
The church also houses some stunning baroque paintings and carved wooden statues that are used during Holy Week (for the processions). This includes the statue of the Virgen de la Soledad (Our Lady of Solitude) and Saint Barnaby, the city's patron saint.
- Chapel of Santiago
This was built in the 15th century and is the first Christian church in the town. It houses religious icons and figures that belong to the Brotherhood of Love and Charity. Most notable of this collection is a wood carving of Christ done in the Neo Baroque style.